Join us in...

The Summer Solstice Matching Campaign!
Dear New and Old Friends of Batsiranai,
Welcome to our first-ever fundraising campaign! Our wonderful fiscal sponsor, One World Children's Fund, is offering us a challenge grant of $2500! If our loyal supporters will donate a total of $2500 this summer from June 21st to September 21st, they will match each and every dollar!
That means we can end the summer with
$5000
to help Batsiranai move towards self-sufficiency and send even more kids to school! Won't you please help us by making a generous donation? Our loyal supporter list is short and sweet, we appreciate any amount that you can give!


---
How to Make Your Donation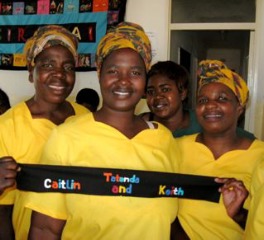 Make c
hecks
out to One World Children's Fund (Write Batsiranai in the Memo line) and send to:
One World Children's Fund
Or o
nline
at OWCF's website:
Be assured that your donation will be credited to Batsiranai, if you simply:
1. Click on donation button on the home page (on the left)
2. Select Batsiranai from the drop-down list of organizations on the donation page, and fill in your information
And email us and let us know you made a tax-deductible donation! We honor your support.
Lynn Poole and Jan Stoner
---
What can Donations do in Zimbabwe?
$500 will do any ONE of these amazing things:
1 year of anti-seizure medication for 25 disabled children
1 year of AIDS medication for 1 person
3 treadle sewing machines
3 days of advanced Business Training for the management team
4 months of public school tuition for 5 siblings of our disabled kids
75 hours of individualized computer or English classes